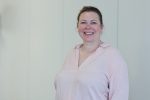 Helen Kemp, Group Director of Business & Skills, TVCA
Helen is the Group Director of Business and Skills at the Tees Valley Combined Authority, having joined the authority in February this year from a similar role in South Yorkshire. Her current remit covers business support for SMEs to start up, scaleup and grow alongside the development of Education, Employment and Skills and Creative Place across the Tees Valley.
Helen has previously worked around the country in a range of roles covering IT, Facilities Management, Planning, Housing, Economic Development, Customer Services and Criminal Justice Reform in both local and central government. Her earlier experience was gained in engineering and marketing in the private sector including British Steel on Teesside.